Regular price
$128.00 USD
Regular price
Sale price
$128.00 USD
Unit price
per
Sale
Sold out
Dear Pickleball Enthusiasts,
We set out to make a perfectly balanced paddle. Our attention to detail was second to none making granular adjustments. Every. Millimeter. Mattered. 
Our focus surrounded control, power, torque, and spin. To do so we made modifications to length, width, weight, handle, surface, and core materials. We considered over 100 variations of the paddle. 
After countless hours consulting physicists, engineers, and players of all levels, we bring you the official P1 pickleball paddle. 
We hope you love it as much as we do.
Sincerely,
Team nicol
Materials

Face: Frosted Carbon Fiber, Twill Weave

Core: Polymer HexCore Honeycomb
Shipping & Returns

Free 2-5 days shipping always

30 days no questions asked return policy

Lifetime Warranty
Dimensions

Face length: 282mm - 11.10inches

Handle length: 130mm - 5.12inches 

Total Paddle Length - 412mm - 16.22inches

Width: 192mm - 7.56inches

Core thickness - 13.85mm - 0.55inches

Total length + width = 604mm - 23.78inches 

USAPA Compliant - requirement <609mm per USAPA regulation
Care Instructions

Inspect pickleballs prior to playing, as tiny pieces of debris can become embedded in pickleball during play. This debris can be carried into the paddle face, causing damage. This type of damage is purely cosmetic and does not affect
paddle performance.

Avoid ground strikes.

Avoid exposing the paddle to extreme temperatures.
View full details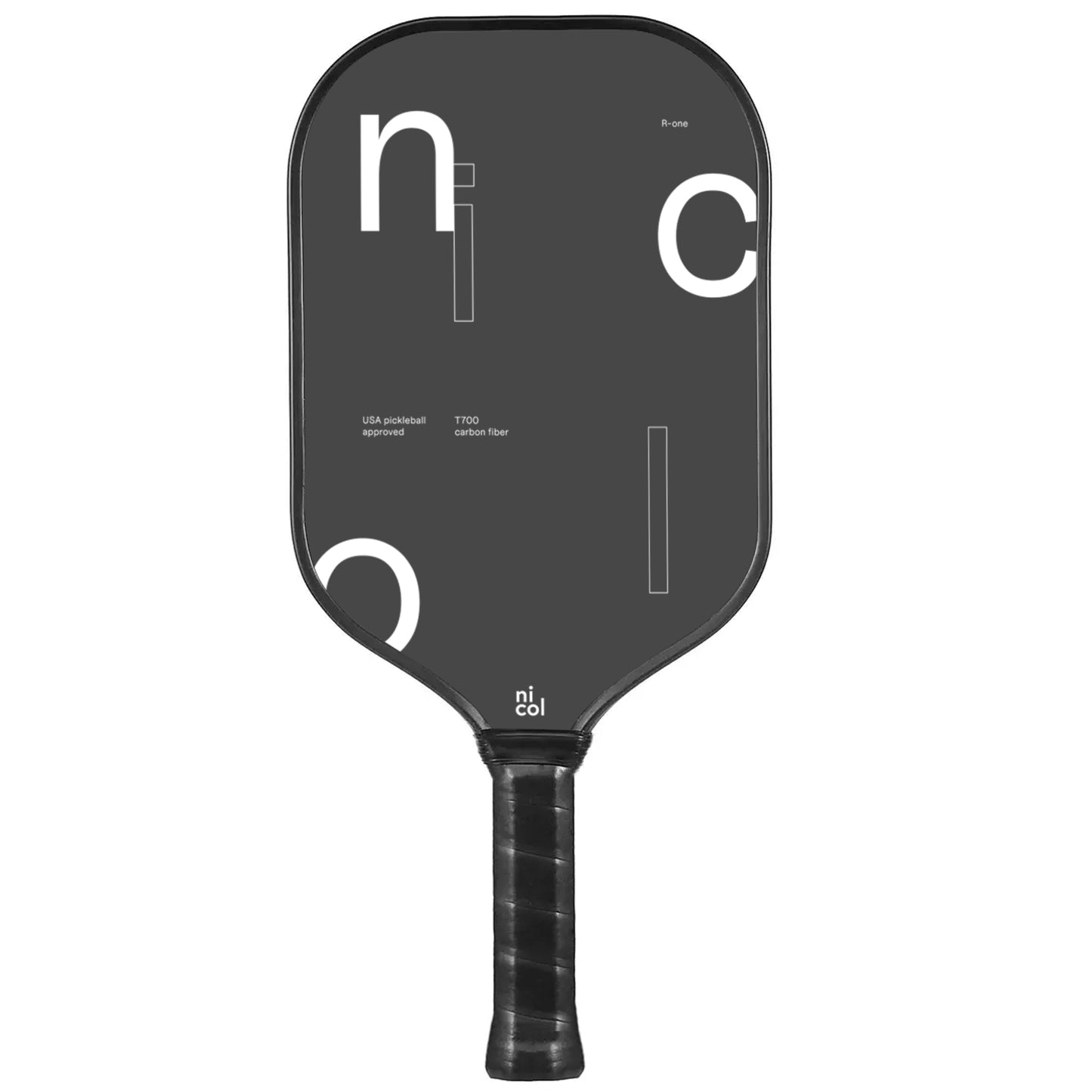 Designed With Performance and Ergonomy in Mind
Perfect Balance

Tested and proven paddle weight distribution for improved balance, control, and maneuverability

Larger Sweet Spot

Evenly distributed honeycomb PP Core Cells for a more consistent surface and a larger sweet spot

Frosted Carbon Fiber

A high-grit carbon fiber surface that grips the ball for maximum spin and ball placement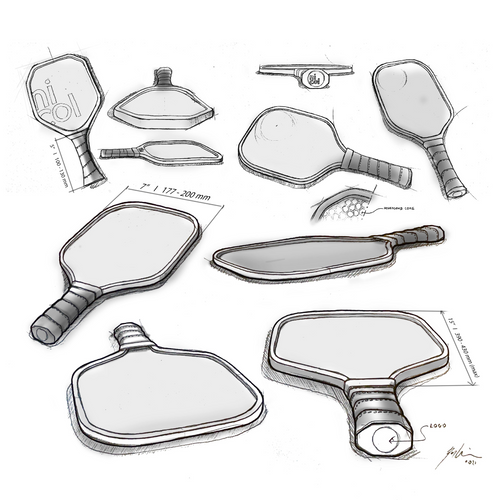 Designing the Perfect Pickleball Paddle
Control
The aerodynamic curve reduces air friction on each swing and increases your swing speed. This provides greater control and power while conserving energy on each swing.
Power
Our Carbon Fiber surface delivers a stiffer, more consistent paddle face. This reduces flex and dampening allowing for a greater bounce back and power on each shot.
Spin
Our Frosted Spin technology on the paddle surface allows you to put more spin on the ball for added control and fast-dipping shots at your opponent's feet.
Consistency
The edge-to-edge consistency of our paddle face provides a longer-lasting spin surface and unparalleled consistency, ensuring that each shot is as consistent as the next.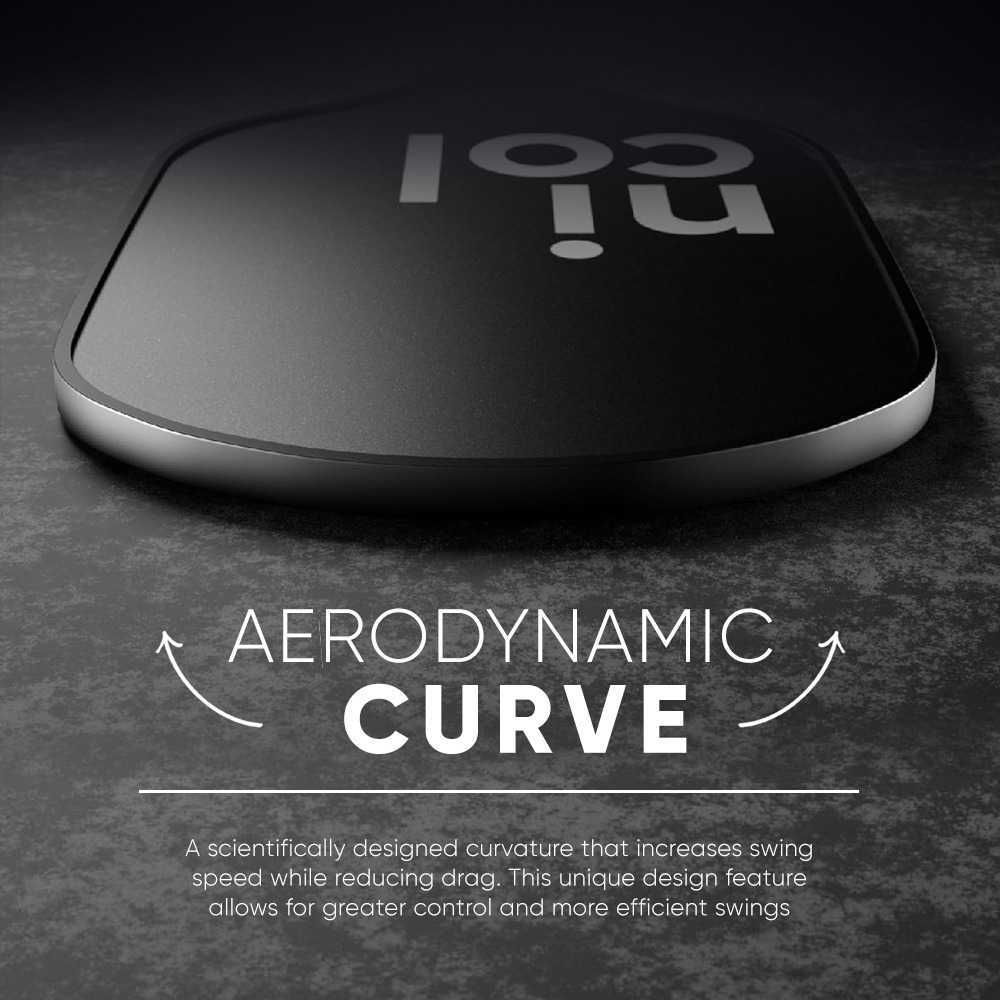 Aerodynamic Curve
A scientifically designed curvature that increases swing speed while reducing drag. This unique design feature allows for greater control and more efficient swings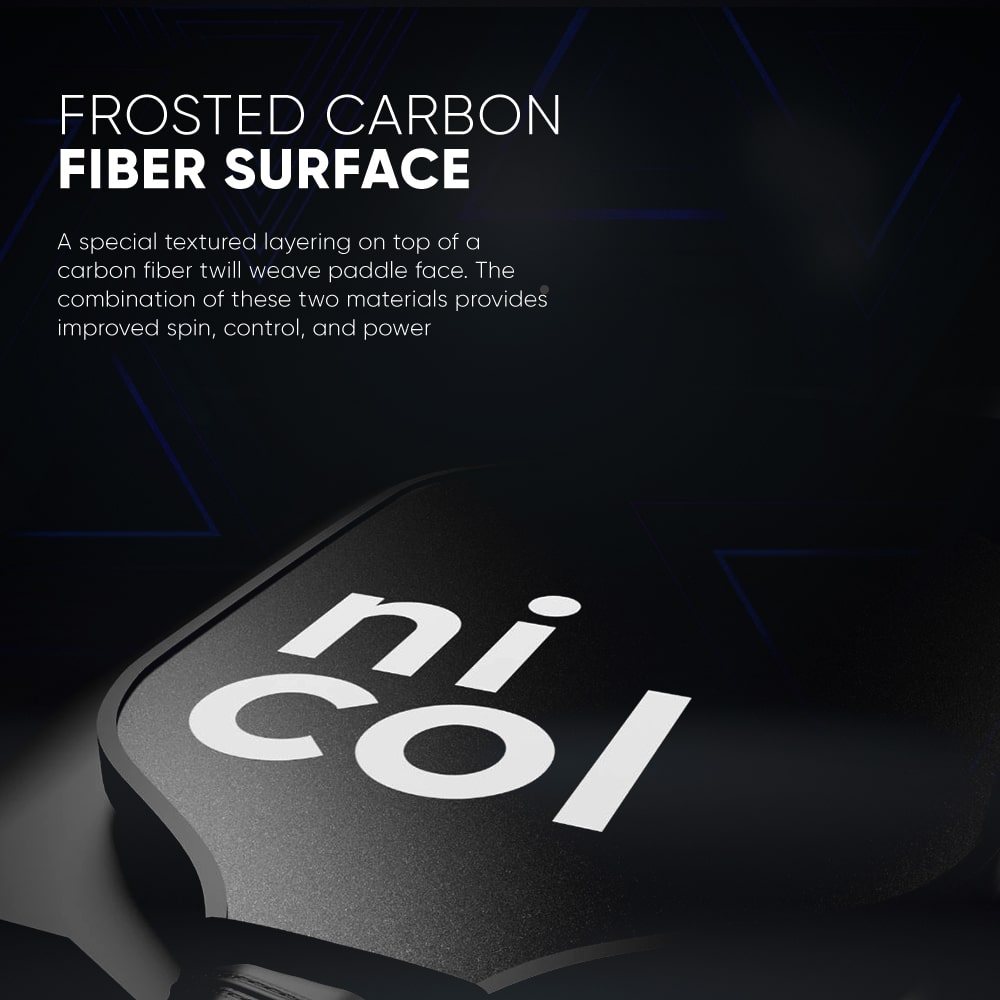 Frosted Carbon Fiber
A high-grit textured surface on top of a carbon fiber twill weave. The combination of these two materials provides improved spin, control, and power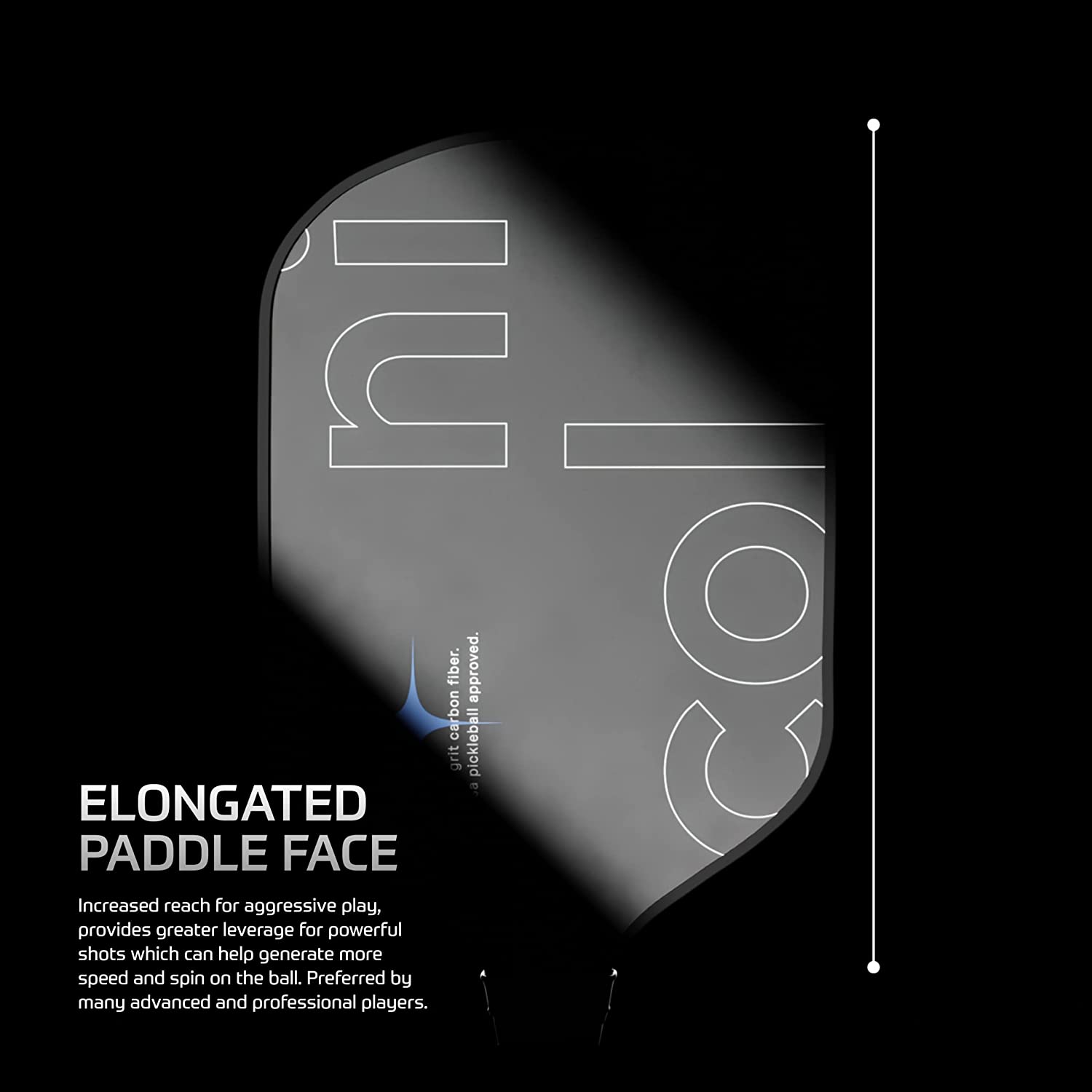 Elongated Pickleball Paddle
Increased reach for aggressive play, provides greater leverage for powerful shots which can help generate more speed and spin on the ball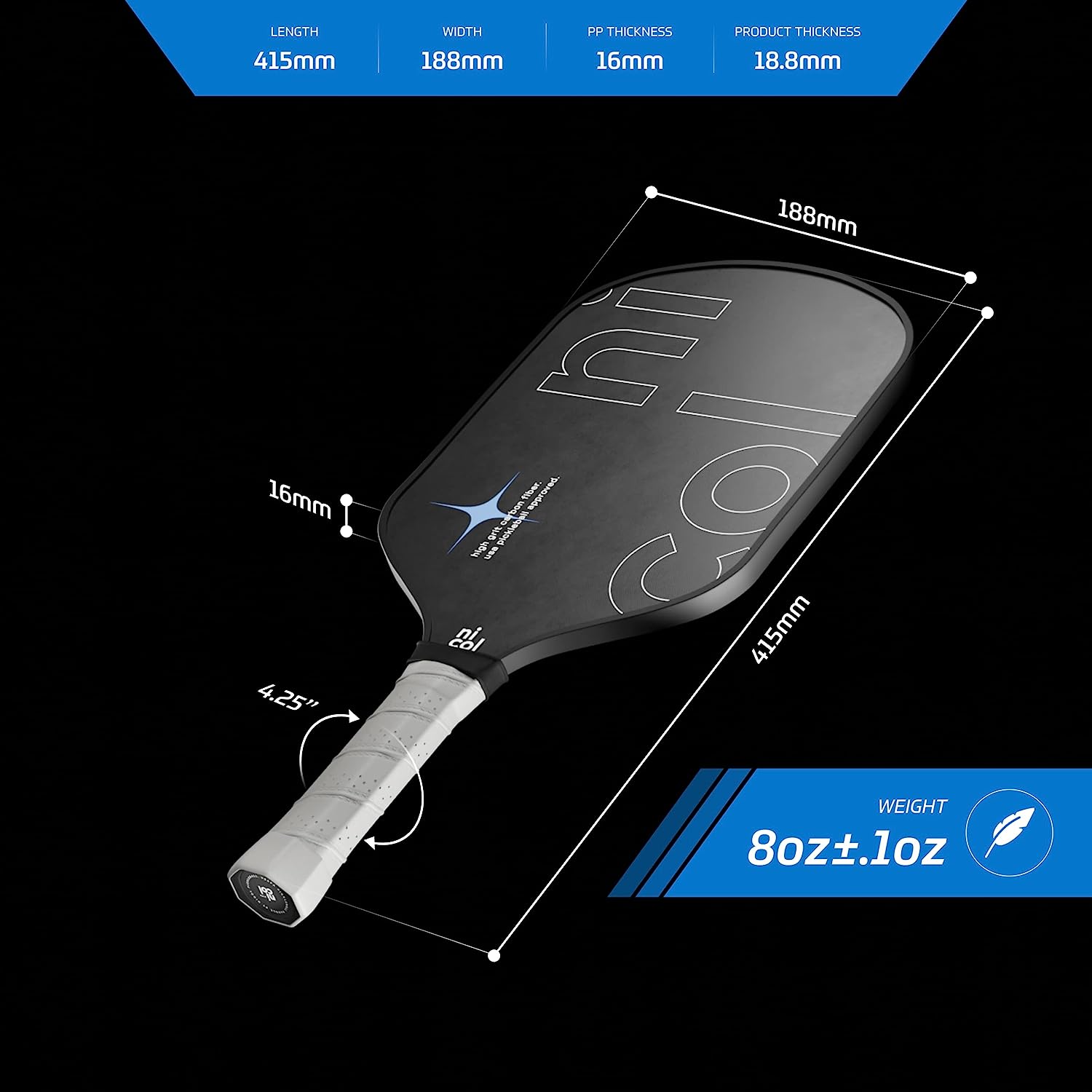 P-One Paddle Specs
Lightweight paddle featuring 16mm core thickness and 8oz total weight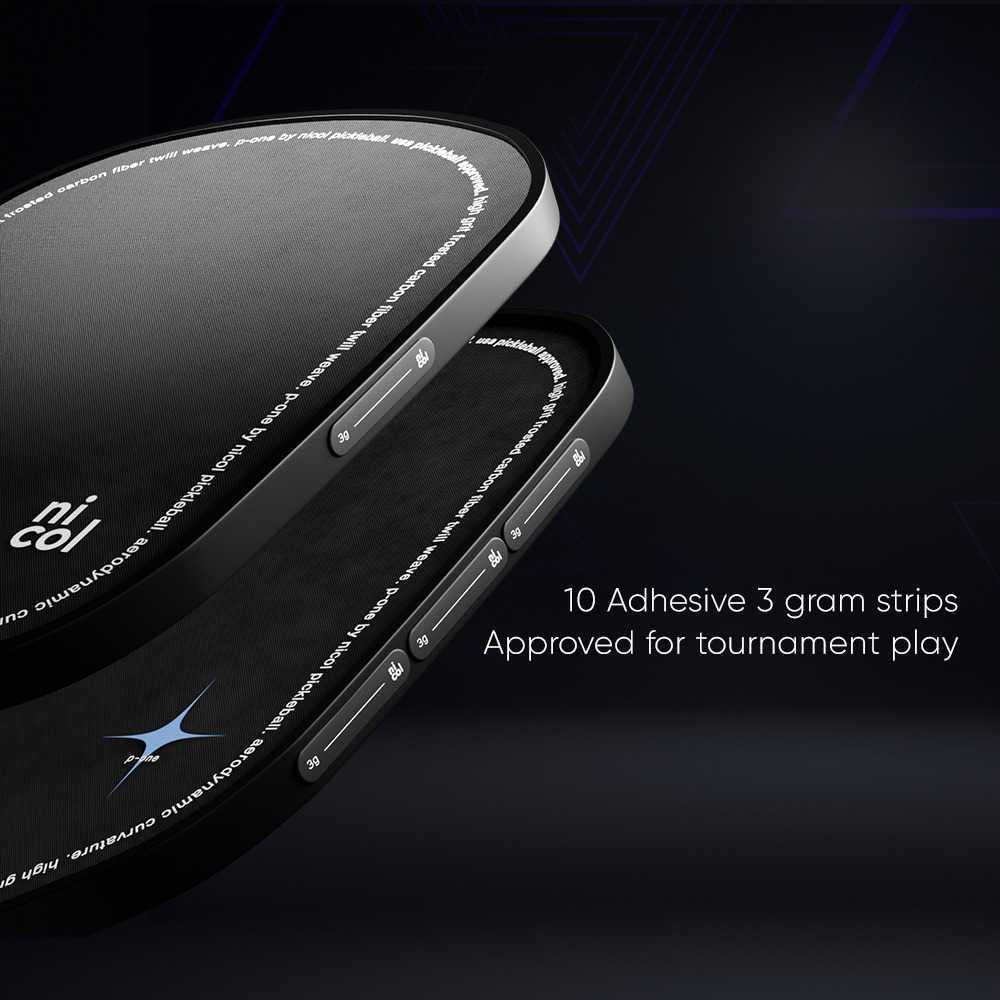 Find Your Perfect Paddle Weight
Customize your pickleball paddle weight today with our 3g pickleball lead tape